CEO Message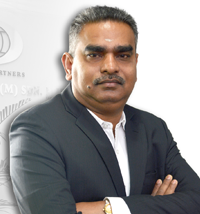 Our company was nurtured with a vision to attain sustained leadership in Human Capital Solution provision.
At GP, we are constantly striving to produce business value for our clients that exceed that of its industry peers in a way that can be sustained over time. Our strategies include One company with multiple solutions capabilities, crafting individual solutions unique to each client`s objective, wider sourcing network providing workforce market trend insights with a deep knowledge on workforce demands and skills, generating innovative & pragmatic packages that are built to maximize results and minimize time to value, and adapting to scalable recruitment solutions.
With competition intensifying among our industry peers and the expectation of the clients to raise the performance bar, additionally GP is embarking on addressing client`s HR Business Strategies, including driving talent acquisitions & development and support the entire workforce lifecycle from recruitment through to retirement (end of contract). Towards this end, we have launched companywide 2014 Policy, "Respond Immediately" whereby we encourage all our employees to religiously follow as our organizational culture.
We are very proud to mention that we have, over the years, ventured successfully into supplying workforce to the Electronic Industries, especially the Japanese and American MNC`s besides local industries including Agriculture, Plastic Molding, and Plantation. By leveraging on the our combined strength, we would add more of the MNC`s to our credit.
GP has envisaged Workforce Talent Management as key primary concern for our customers in the coming years ahead and we have made some arrangements with Training providers to design specific & custom programs.
At GP, we believe Employee Engagement, is our key strategic initiative that drives employee performance, accomplishment, & continuous improvement all year long and we have placed an effective recognition & reward system involving verbal or written acknowledgement from the employee's manager in addition to any physical reward supplied.
We have faced many challenging situations and have always countered them successfully with its operational efficiency and best management of Human Capital.
Our passion is to be the "Best in Class" in every facet of Human Capital Solution provision. And ONLY by pursuing Excellence will we achieve it.