Management Profile
Y.M.Datuk Raja Azahar Bin Raja Abdul Manap PJN, DIMP, KMN, AMN
Yang Mulia, Our Chairman, had been with the Government, holding decision-making key positions in several ministerial departments. Graduated in B.Econs (Hons)-Public Admin (UM), he started his career as Deputy Director, in the Ministry of International Trade and Industry, in 1976, and he final stint was with the Home Ministry, as Deputy Secretary General, before retiring in 2011. He holds a Diploma In Commercial Policy (GATT, Geneva) and MBA (Northwest Missouri State University).
In a span of thirty-five years of successful and challenging career, Yang Mulia, has held very senior positions in the Ministry of Finance, National Development Department under the PM`s Ministry, the Immigration Department, and the Institute of National Public Administration, influencing many paradigm shifts in the proceedings of the Government, that brought significant recognition and image among the public and international commercial community. Yang Mulia, despite his busy governmental affair, he has been relentlessly involved in the welfare of the public in general and the surrounding community, for which he has been duly appreciated with various awards that carry the title "Datuk".
Yang Mulia brings a lot of experience in the field of management and laws governing Human Capital Sourcing. He is widely recognized among the various industries that utilize foreign workers both semi-skill, skill and Professional
Abdul Hamed Bin Ghazali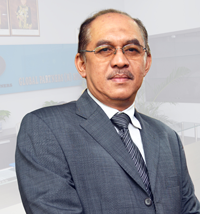 Encik Abdul Hamed, our Advisor, was graduated from the UiTM in Business Management and started his career in the PM`s department as an Executive Officer, before retiring as Private Secretary to the Foreign Minister in 2009.
During his nineteen years tenure with the Government, he has held important positions in several ministries including, the law Ministry, the Defense Ministry, and the Home Ministry.
Currently, En.Abd.Hamed, is the Vice President of Malaysia-Myanmar Chamber of Commerce (MMCC) and he is well known in the fraternity and widely recognized and respected among the Myanmar Government Officials and the industrial communities.
His experience with the inter –governmental issues and policy has been instrumental in expediting migrant worker sourcing from the Myanmar and the neighboring countries.
Gunnalan S/O Periasamy- CEO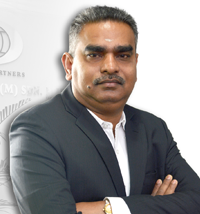 After graduating in Business Management, he started in career in a Third party Logistic dealing with "Health Care product". Acquiring 10 years of business acumen and enough capital, he started his own business in the health care business, specializing in the supply of dentures to private clinics and hospitals throughout Malaysia.
His vast experience in the logistics and a timely call by the Malaysian government to deregulate foreign workers supply, Mr. Guna, smartly grabbed the opportunity and since then he never looked back. To date he has been very successful in providing foreign workers to various industries totaling to almost 1,000, to the Malaysian employers since 1996.
His success and capability in meeting the needs of the various sectors had earned him the respect and positioned him as the preferred and the choicest supplier of foreign manpower.
Paul Maria Soosai – Director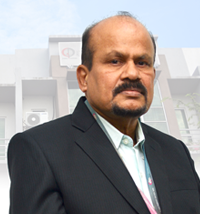 Mr. Paul hails from the Panasonic school of thought, after starting his career in Matsushita Electronic Components for more than 25 years, as pioneer in the Human Resource Management.
His ability to manage almost over 5000 workforce meeting their needs in terms of workplace literacy, welfare, safety, and mobility, brings a lot of management know-how to GP. His key role includes local workforce recruitment, payroll management, and managing welfare of the expatriates.
He has also need appointed Director for some local companies. Throughout all his careers in these companies, he has imparted his Human resource management strategies and implementation and it has always been his core competencies
Kanapuran K Arumugam @ Mike - Financial Advisor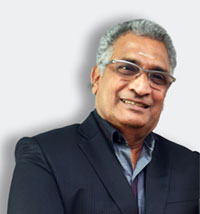 Mr. Mike started his career with Global Partners (GP) as Financer for the business and gradually with his extensive advisory experience on issues of finance; he played an active role in all financial decisions including advising on all financing issues.
Prior to GP he was with MAS, in the Customer Service Department. Mr. Mike has been instrument in procuring in some key clients for GP. His wide experience in the handling customers, during his stint with MAS, has been instrumental in GP's successful marketing and closing sales comes natural to him
end faq